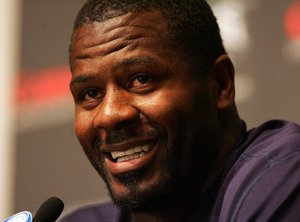 Despite just being released by the team he loved, linebacker Jeremiah Trotter took the high road out of Philly on Tuesday, giving lots of love to the team that just released him. "It's a tough pill to swallow, but everyone gets to this point in their career at some point or another, and now is my time. I'm just thankful that I spent this many years here in Philadelphia," Trotter told the media Tuesday. "I truly believe that if you were to cut me, I'd bleed green. Even when I went away for two years [to Washington], I was always an Eagle at heart, and I'll always remain an Eagle."
It was a tough pill to swallow for the 30-year-old Trotter, who reportedly will look for work elsewhere in the league. He was expected to be a main force in the Eagles defense once again this season, and instead that middle linebacker position he owned over the years will instead go to Omar Gaither. Trotter's teammates even had an emotional good-bye on Tuesday, as the linebacker addressed his teammates after practice.
"This one hit me like a ton of bricks," safety Brian Dawkins said. "No matter how many years you play, it's always hard when you lose someone like that, that you've come in contact and gotten so close with. I'm going to make it as far as I can in this press conference." This was Trotter's second go-around with the Eagles, and unlike the first time, it really does now appear that he has played his last game in green. Now the next time he comes back it will only be to retire.
"Obviously, I want to be here," Trotter said, "but he's making a decision that he feels is best for the team. That's what this league is about. The turnover ratio is big every year. They're always bringing in someone to try to better the team. Who knows what the future holds, but, like I said, now is my time. I understand why he did it – I know he didn't want to do it – and that means a lot to me."