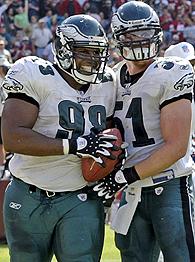 Eagles DT Mike Patterson was arrested last Saturday, February 16 shortly after for possession of marijuana.  Patterson, a former USC Trojan, was driving with his brother Tyrone before being involved in a minor traffic accident which caused visible damage to the car.  An Evesham police officer smelt the scent of burning marijuana, in which Patterson admitted to his possession.  The officer, according to Evesham Police Captain Jeff Gural, found less than 50 grams of marijuana to Patterson's possession.  Furthermore, Tyrone Patterson, who had several outstanding arrest warrants, resisted arrest .
Patterson, in only two seasons in the NFL, has registered 163 total tackles, nine sacks, two forced fumbles, four pass deflections and one 98-yard defensive touchdown with the Eagles.
Eagles Gab Newsletter
Sign up to receive our Eagles Gab newsletter, and keep up to date with all the latest Philadelphia Eagles news.