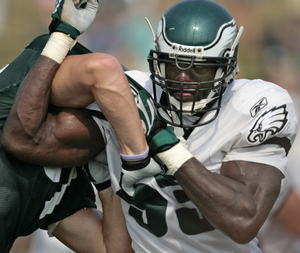 A one-time major force on defense is now out on the streets, as the Eagles earlier today released defensive end Jevon Kearse.  The former first-round pick of the Titans back in 1999 is already being rumored to possibly going back to the team where he first began – Tennessee.  He had a great career with the Titans, putting up 47.5 sacks in 66 games, an average of 0.7 sacks per game.  His four seasons in Philly were not quite as memorable, as he never put up more than 7.5 sacks in any season, and played in just 16 games over the past two years.  This past season in a mostly situational pass rushing role, had just 3.5 sacks and 12 tackles.
Kearse's release is no shock, and comes in the middle of an 8-year, $66 million dollar deal that made him the highest paid defensive end ever back in 2004.  He was due to pull in $6.46 million with the Eagles in 2008, way too much for a player that was playing only part-time.  "We tried to work out a restructure with the Eagles and it didn't work out," Drew Rosenhaus said last week at the NFL Scouting Combine. "He had a wonderful career there."  Kearse missed 12 games with a broken bone in his left foot in 2002, sprained the same foot in 2003 and missed nearly three games.
As far as going back to Tennessee, he could get new life, and could be a welcome vet on a defense that played very well last season and could use some help if they lose some free agents, which they are almost 100 percent are going to do.
Eagles Gab Newsletter
Sign up to receive our Eagles Gab newsletter, and keep up to date with all the latest Philadelphia Eagles news.