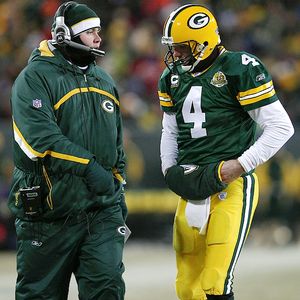 10. The Packers still owe us for taking Reggie White.
9. The green jerseys might confuse Brett and make him think he still plays for the Packers.
8. His interceptions are much more graceful than A.J. Feely's.
7. It would save Brett from having to negotiate with Al Davis.
6. If DeSean Jackson goes down with an injury, Brett could return punts instead of Reno Mahe.
5. The last future Hall of Famer we brought to Philly was stinkin' Peter Forsberg.
4. Because McNabb always gets hurt and Kolb isn't ready yet.
3. Because eagles season tickets are too easy to get (FACT FOR GREEN BAY FANS: Five times more Packers
season tickets become available every season than Eagles season tickets).
2. T.O. wants Brett to throw to him… oh wait.
1. Because Cole Hamels throwing for the Eagles wouldn't be fair to the rest of the NFL!
Eagles Gab Newsletter
Sign up to receive our Eagles Gab newsletter, and keep up to date with all the latest Philadelphia Eagles news.