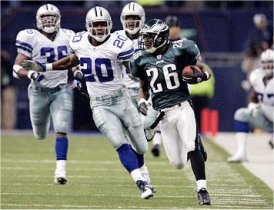 Things are about to get real interesting around here. I just read the following on Philly.com:
History repeated itself yet again today when an Eagles player unhappy with his contract fired his former agent and replaced him with Drew Rosenhaus.
The player this time is cornerback Lito Sheppard, who missed the Eagles' two-week voluntary camp last month and has made it known that he's unhappy with his contract, which has four years remaining and will pay him a base salary of $2 million this season.
Exactly what this means for Sheppard's immediate future isn't clear. Sheppard and most of the other Eagles veterans are scheduled to report to training camp a week from today at Lehigh University.
The Eagles confirmed that they are aware of Sheppard's decision to dump former agent Lamont Smith in favor of Rosenhaus. A league source said the team and the high-profile agent are determined not to have a repeat of the circus that engulfed the franchise in 2005 when former Eagle Terrell Owens got into an incendiary contract dispute that included heated arguments with his teammates and coaches, well-documented sit-ups by the star receiver on his Moorestown driveway and the eventual dismissal of T.O.
from the team.
"We have signed Lito as a new client," Rosenhaus said after a meeting with the Eagles at the NovaCare Complex. "I'm trying to keep somewhat of a low profile. We're going to keep everything real positive. I've had a lot of positive dealings with the team recently. I'm confident that we're going to find a mutually beneficial solution to this situation and we expect things to move in a positive direction."
Sheppard did not return a phone call.
Multiple sources confirmed that Rosenhaus was in Philadelphia today and he met with vice president of player personnel Howie Roseman. Team president Joe Banner, who is on vacation, took part in the meeting via conference call.
"It was a relatively positive conversation and the Eagles expect him to be at camp when the vets report next Thursday," a team source said.
A source close to Sheppard also said the cornerback would report to training camp.
This is horrible news. There is now only one way the Lito saga can end in Philadelphia: BAD. Remember, Rosenhaus only gets paid if Lito gets a new contract. From past experience, Rosenhaus' strategy will likely be to try and put some pressure on the Birds to trade him before the season. That would be the Sonny Corleone move. The Michael Corleone move would be to tell Lito to get in top shape, show up in camp and play his lights out in an effort to force a trade next offseason. What would be the Fredo Corleone move, you ask? I suppose it would be to hold out in camp and then show up before the start of the season, which would likely lead to yet another injury and cement his reputation as over rated and injury prone.
Personally, I'm really hoping that Lito shows up and plays in 2008. I think our three corners could be the best in the league and could be a real strength of the team.