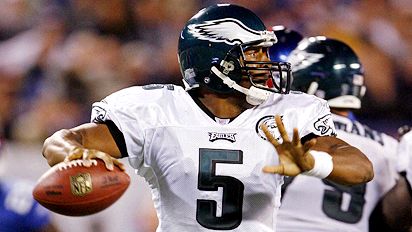 Looking at the big picture, you have to like the results. The Eagles did drop the game to the instate rival Pittsburgh Steelers 16 to 10. Howevr… Donovan McNabb looked sharp, the Eagles offense capitalized in the red zone, the first-team defense rebounded from a slow start and rookie wide receiver DeSean Jackson was impressive. The Eagles even had a chance to win their preseason opener Friday night, but a 4th-and-2 pass by A.J. Feeley to Bam Childress fell incomplete to seal the Steelers' 16-10 victory.

McNabb played into the second quarter and looked fleet of foot as he completed 10 of 13 passes for 97 yards including a 3-yard touchdown pass to fullback Jason Davis.
"I thought he played really well. I liked the poise," head coach Andy Reid said. "There were so many good things that I saw, and a couple bad ones, but Donovan was a plus."
McNabb said the offense "can be great if we continue to stay healthy and continue to progress."
On the opening drive, the Eagles drove 70 yards in 14 plays but stalled in the red zone – an area of concern in 2007 and one that was worked on extensively during training camp. After settling for a David Akers' chip shot, the Eagles cleared the way to the red zone once again and this time cashed in as Davis was wide open.
Once the first-team offense came out, so did the scoring. Kevin Kolb was not impressive.  He looked weak armed armed on many throws…hopefully he will settle in after a couple of games.
The Eagles defense seems to hav lost non of its trademark ferosiousness. The defense did its part despite an opening drive that saw the Steelers march 80 yards in eight plays as Santonio Holmes caught a short pass and turned it into a 19-yard score. The defense, which admitted to being too hyped on the opening drive, forced a three-and-out on the second drive.
The debut of Jackson, the second-round pick out of Cal, also was worth noting. Utilized with the first-team offense and moved around the field, Jackson delivered a game-high five catches for 51 yards.
As to be expected from a preseason opener the Birds played it close to the vest utilizing straight passing and running lanes……………Westbrook happy with his new contract did not play