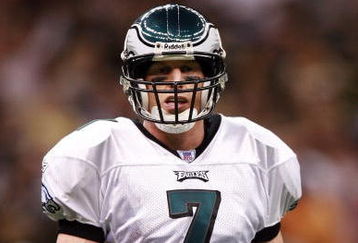 The Philadelphia Eagles certainly were in the market for a short-term fix at quarterback, especially since Donovan McNabb went down Sunday with a cracked rib last Sunday at Carolina. Michael Vick obviously was not an option, due to his 2-game suspension and overall rustiness and the insistence by head coach Andy Reid that Kevin Kolb was the second-string QB.
Apparently, the Eagles found their man – one who is pretty familiar with the Eagles' offense. The QB in question? None other than Jeff Garcia. Yet at the same time, McNabb is saying that he isn't yet ruling himself out of next week's game against the New Orleans Saints. According to McNabb:
"Not necessarily, anything can happen. It's just Monday right now, but if Friday and Saturday come along and I'm feeling a lot better, you just never know. It's a slow process of just meeting with our trainers, doing two-a-days with treatment, going through the process of just like I'm playing in the game, and seeing how I feel at the end [of the week]."
With McNabb's participation iffy at best, it will be interesting as to how Kolb will adapt to the Eagles' offense due to his lack of practice time with the first unit. Also bear in mind that New Orleans is a high-octane offense, so Kolb will have to keep up offensively. So in essence, by default, the Eagles' defense will have to be the determining factor – even more so than the offense – in how their chances are against the Saints.
Although Garcia is somewhat familiar with the Eagles' way of doing things (he used to QB here not long ago), it is not clear how he can contribute in a meaningful way other than mentoring Kolb – unless Kolb pulls a Jake Delhomme and throws four interceptions. Probably the best case scenario for Eagles fans is that McNabb is a fast healer and somehow makes himself available for Week 2. Personally, I cannot see that happening, but just remember that McNabb played on a broken right ankle back in 2002 againstArizona, throwing four TD passes.
Anything is possible in this crazy NFL world, so I suspect the next 3-4 days will be the tale of the tape as to whether McNabb plays Sunday or not.
Eagles Gab Newsletter
Sign up to receive our Eagles Gab newsletter, and keep up to date with all the latest Philadelphia Eagles news.