There are lots of questions with the Eagles defense right now. To me, the biggest question surrounds the secondary right now. Out of the four positions, there are two shoe-ins and then a million other questions.
Asante Samuel and Quintin Mikell are the two obvious starters on the defense. However, there are no other guaranteed starters at this point. The Eagles currently look to have Ellis Hobbs starting at the other corner and Macho Harris starting at the other safety position. These guys may be listed as starters but there's not a whole lot of confidence in these guys at the moment and their jobs are definitely open to competition.
Marlin Jackson is a guy the Eagles brought in to compete for a starting safety position even though he played primarly corner for the Colts. Personally, I'd like to see him compete at both positions. If he is a better cornerback then Hobbs, then I think he should start rather than trying to fill the void at safety.
Other guys that could make a push for the starting spot at corner are Joselio Hanson and Dimitri Patterson. Both of these guys saw time on the field last year in sets where the Eagles needed extra defensive backs and also played on special teams. Trevard Lindley is a guy the Eagles just drafted but doesn't seem to have a shot at making a push for a starting position. He may make the team but not as a starting corner.
The battle for the open safety position should be a fun battle to watch in Training Camp. You have Macho who is slated as the starter and has supposedly bulked up trying to keep his spot against some heavy competition. He will compete against Quintin Demps (maybe not), Marlin Jackson, and Nate Allen.
The safety battle is interesting and I have the feeling that we may see multiple starters throughout the season. Ideally, I think the Eagles would like to see Allen eventually be the starter but I'm not sure if he'll be ready come the opener in September.
The Eagles would love to find some stability in the secondary after a rocky 2009 season. I'm hoping that somebody is ready to step up to the plate.
What are your thoughts on the Eagles secondary?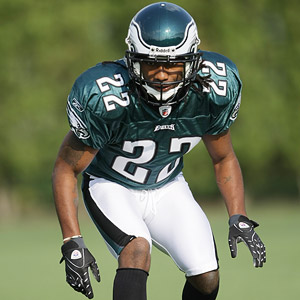 Eagles Gab Newsletter
Sign up to receive our Eagles Gab newsletter, and keep up to date with all the latest Philadelphia Eagles news.