Yahoo's Jason Cole has been ranking all the teams in the NFL based on different positions. His most recent rankings take a look at the linebackers where he ranked the Eagles 19th overall. This is what he had to say about them:
19. Philadelphia: If Ernie "Cinnabon" Sims can get back to being the 100-plus tackle a year defender he was for the first three years of his career, the Eagles will have gotten a bargain for the fifth-round pick they gave up in the trade for him. Sims never developed into the dynamic player the Lions expected when they took him in the first round in 2006, but the Eagles aren't looking for that. Likewise, if middle linebacker Stewart Bradley returns to full health after missing last season, the Eagles are solid there. The weakside spot is still in question with Moise Fokou looking like the starter, but the depth is good with Omar Gaither and Akeem Jordan.
You can't complain too much about Cole's rating as the linebackers played terribly last year. Also, the way that the linebackers will play this year depends a lot on two guys who didn't play in the Eagles lineup last year. Sims is a new addition and Bradley couldn't play because of injury. Both players have huge potential but still have a bit of question around them.
I think this lineup has the potential to definitely be in at least the top 10 in the league. Sims put up solid numbers up until last year and still has a lot of tread on the tires. Bradley was ready to have his break out year before suffering a season-ending injury at last year's Flight Night event. With the two guys back in the lineup, the Eagles should see a huge improvement from the play of last year's linebacker circus.
The X-factor to the equation will be Fokou. He got a chance to get some play time last year as a rookie but didn't play to a high enough level. With another year under his belt, he should see some drastic improvement. Having Sims and Bradley lining up alongside him should also take some pressure off.
If we see Bradley and Sims play at the level they have in the past and Fokou steps his game up, the Eagles should have a solid group of linebackers in 2010.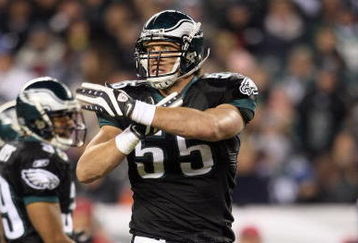 Eagles Gab Newsletter
Sign up to receive our Eagles Gab newsletter, and keep up to date with all the latest Philadelphia Eagles news.