Yesterday, we told you that Charles Scott had been traded to Arizona. However, we never discussed why the Eagles chose to make this move.
When the Eagles drafted Scott this year, I was a bit surprised. I was not surprised because they picked him; I was surprised he was still on the board at that point. Scott was a guy that had a great junior season but had his senior year cut short by an injury. My vision of Scott was the big bruising back who could help solve the short yardage problems we've seen the past few seasons.
However, as Training Camp moved further along, the Eagles had different plans for Scott. The team chose to start giving him reps at fullback and he transitioned into the position full-time. Scott obviously wasn't competing for a starting position with Leonard Weaver on the roster, and it was hard for him to see a lot of playing time as the team runs a lot of single-set back formations.
Scott also failed to show that he could catch the ball out of the backfield which is very important ability for any back on the Eagles roster to have.
With all those things in mind, Scott was a long shot to make the roster. There was a chance he may land on the practice squad, but his odds of being on the game day roster weren't very high. However, his chances in Arizona are much higher. They lost their starting fullback so he'll have a much better chance making the squad there.
In return for Scott, the Eagles received Jorrick Calvin. Calvin is a cornerback who is also a return specialist. The corner position is somewhere the Eagles could use more help, and they're also not set on a return guy this year.
This isn't to say that Calvin has a great opportunity to make the team, but I think he has a better chance than Scott did.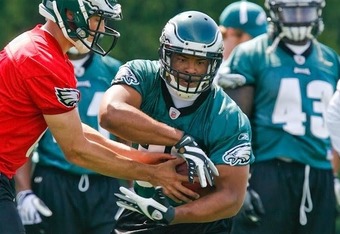 Eagles Gab Newsletter
Sign up to receive our Eagles Gab newsletter, and keep up to date with all the latest Philadelphia Eagles news.