The Eagles sit at 1-1 right now, but are actually in a pretty good place. They're getting some help from the rest of the NFC East, with the Eagles being the only team from the division getting a win last week. They've also been getting some help from a few guys who might not have stuck out in the beginning of the year. Here's a list of three guys I've found to be pleasant surprises through the first two games.
1. Joselio Hanson
Hanson was the guy I wanted to see in the nickel position as Training Camp started. However, I had a change of heart after watching him play during the preseason. He was getting burned and giving up big plays.
Despite the poor performance in the preseason, Hanson has seen a lot of time on the field so far this season and is really making the most of it. Through two games, Hanson has recorded six tackles, three pass deflections, and an interception.
The Eagles needed someone like Hanson to step up, so it's been nice to see him playing the way he is.
2. Juqua Parker
Parker was a guy who was listed as a starter until the young rookie, Brandon Graham, dethroned him. He's a veteran on a very young line, but has shown us he can still play at a high level. Through two games, Parker has recorded three sacks. That puts him on pace to set a new career record.
I worried a bit that Parker may become distraught from losing his starting spot. However, he has showed us all that he still loves the game and is still pretty damn good at it. I hope he keeps up his play as the season continues.
3. Michael Vick
We all expected Vick to make some plays this year. What we didn't expect is that Kevin Kolb would go down in the first week of the season, and that Vick would have to take over the reins. However, Vick has done so and created a bit of controversy with the level of play he has shown when in the game.
Everyone is saying he looks like the "old" Vick, and they're absolutely right. He seems to be moving around as well as he ever has, and has also shown that he can sit in the pocket and throw the ball. Andy Reid is still sticking by Kolb, but you know he has 100% confidence that Vick can come in and play at a high level whenever he is called on.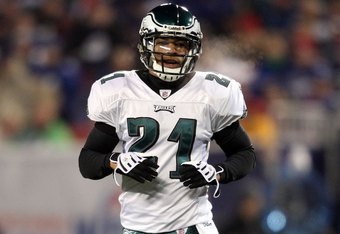 Eagles Gab Newsletter
Sign up to receive our Eagles Gab newsletter, and keep up to date with all the latest Philadelphia Eagles news.