1. Michael Vick is Playing Out of His Mind
We already knew Vick is a great quarterback, but his performance against the Redskins was absolutely insane. He's had some great performances in the NFL, but that has to be his best by far.
Vick was doing everything right last night, making plays with both his arm and his legs. He continues to shine throwing the ball down the field but seems to really have improved his accuracy on his short to mid-range throws.
In the past, he's had to make plays with his feet because of poor blocking. He received a lot of good protection last night, and was really able to show off his arm. However, when he was put in situations where he had to take off and run, he was able to do so with ease. I'd still like to see him avoid some more hits, but you have to love the effort the guy puts in.
Absolutely stellar performance overall, and I think he just catapulted his name into the league MVP pool.
2. Eagles' Depth Continues to Shine
The Eagles have been struck by the injury bug early and often this season, but still have a 6-3 record to show. Last night we saw Kurt Coleman make his first career NFL start and record an interception.
Nick Cole was a guy I was critical of last week when he entered the game last week. I wasn't specifically watching him last night, but I was happy with how the line played so you have to applaud him for his effort.
Dimitri Patterson played well overall in just his second start as he recorded two interceptions and returned one of them for a touchdown. He also had some very physical tackles, and that's the kind of thing you need out of a corner who's going to line up opposite of Asante Samuel.
3. Jerome Harrison Can Contribute to this Offense
Ladies and gentlemen, we have a Jerome Harrison sighting. With this game basically being over before it started, Harrison was able to get a nice amount of carries, 11, and made the most out of them. He finished with 109 yards on the ground, including a 50 yard touchdown run. Harrison also recorded one catch for 15 yards.
Although we've seen LeSean McCoy show us a lot this year, it doesn't hurt to have a solid backup on call. He can pound the ball if the Eagles need it, and I'd like to see the Eagles continue to work him into the offense as the season progresses.
4. The Redskins Made a Mistake
We all know the big storyline going into the game was the announcement of Donovan McNabb's contract extension. He didn't exactly come out and prove that he was worth the money. I don't think he's shown that he's worth it this entire year.
Sure the guy was a proven winner in Philadelphia, but that's not translating to wins in Washington. He may be a better option then anything else they have, but I can't see them doing much with McNabb at the helm for five more years.
The good news is that they protected themselves with his contract. They can still cut or trade McNabb and will only owe him $3.75 million.
5. Jorrick Calvin is Making Me Nervous
I'm hoping he just had a bad night, but this guy has me worried right now. Maybe it was Monday Night Football nerves, but Calvin could not hold on to the football. It seemed like maybe this was best for him because the times he did take the ball up field, he was getting pummeled.
DeSean Jackson is an amazing punt returner, but I don't want to see him in the game when the Eagles are up by a sizable margin because you can't trust Calvin to do his job. Get it together.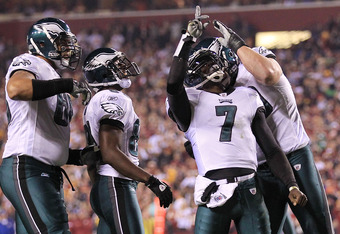 Eagles Gab Newsletter
Sign up to receive our Eagles Gab newsletter, and keep up to date with all the latest Philadelphia Eagles news.